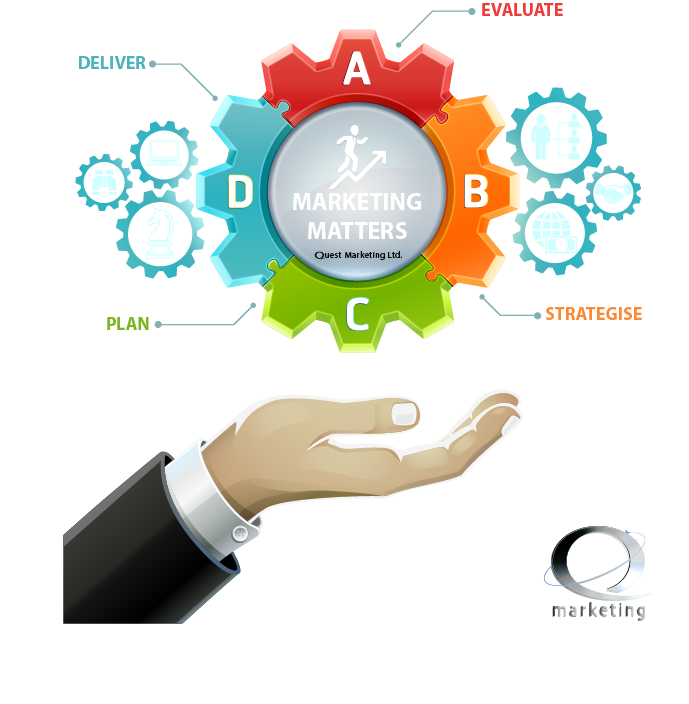 Joined Up Marketing
We can develop an integrated brand development, sales, marketing and digital strategy for your businesses growth, or create individual marketing experiences to engage your customers from our full service menu below.
We know how to communicate.
We Make Marketing Work For You
Marketing is at the forefront of most businesses. In most cases it forms the shop window for non-retail businesses.
As such we provide a joined up marketing marketing approach that audits your current situation and meets with your future objectives, and is based on your real world capabilities and budgets. We can then build you a marketing strategy (that includes digital marketing) and plan that integrates with your sales activities and aids your long term brand development.
Quest approach marketing holistically to create a joined up marketing approach, rather than in silos of digital/advertising/SEO etc.
Our strength as always been about taking SME companies with expertise in their own products and services and helping them to navigate their route to market and to close sales.
Send over a web enquiry and include a phone number and we will call you back to arrange a no obligation initial meeting to move you forward.
We can provide your business with a marketing strategy designed to integrate and compliment your sales activities, that leads to business growth. We will start with an initial audit and agree the strategy and plan with you. We are happy to implement the marketing activity and continue to work with you to hit your business goals and objectives.
Our experience is in integrated marketing and sales SME growth.
Every organisation, small or large has the ability to develop a brand. Every business should have a sense of brand, routed in your companies values, that can then be delivered to their customers. If your business is going to grow long term your company name and ethos needs to stand for something, wherever and however you do business, whether locally or globally.
Make sure your business name counts for something.
We can start your marketing from the floor up, if required, ensuring all customer facing marketing is on message and branded to attract. By helping you (over) deliver the customers' expectations through good follow up systems, processes and well trained people will lead to better customer service, which leads to retained customers.
We help make you effective while we make you look good.
What We Offer – Service Menu
Sales & Marketing Strategy
We develop a marketing strategy towards business growth with you, whether this involves improved marketing communications needs, integrated sales processes or something more that is required from within your business, we have the experience to identify and report what is required, and recommend accordingly.
Responsive Web Design
A well designed website that works across all devices with logical, well written content will drive your business forward. Keeping the site information up to date and of interest to potential customers by addressing the needs they have in the style they want, across all media platforms, in an easy to follow flow with strong calls to action is key.
Social Media Management
Will Social Media work for
your
business?
Well-timed and relevant social media campaigns are a must for businesses seeking results from the digital marketplace. People engage with people, and there are opportunities in social media to achieve this – but only if approached in the right manner.
Business Video Production
Most organisations have their own TV Channel – their website. This provides a huge opportunity for you to talk to, and engage with, your customers and potential customers. YouTube is, after all, effectively, the second biggest search engine in the world. All you need now is a marketing aware video production partner. Hi.
Graphic Design
Graphic Design drives advertising and attracts us to brands. Graphic Design is the visual representation that gives potential customers a subliminal mental positioning of the brand of your company. Delivering consistency to your audience through graphic design is key to good branding.
S.E.O/S.E.M
Are strong search engine results essential for your businesses enquiries?
Then you need to get SEO right rather than get it now, or look at how a managed Adwords and other 'pay per click' strategies may work to increase enquiries for your business.
PR/Content Management
Concisely written and targeted press releases draw media attention to newsworthy events, such as new products or services, landmark business achievements and interesting personnel stories. Combine with good photography and you have press releases and good web content in one.
Corporate Photography
Corporate photography is often the first thing a prospective client sees of your organisation, as images within your website or literature.
Your photography should present the right image and reflect your brand.